Stiletto Strand Bamboo Flooring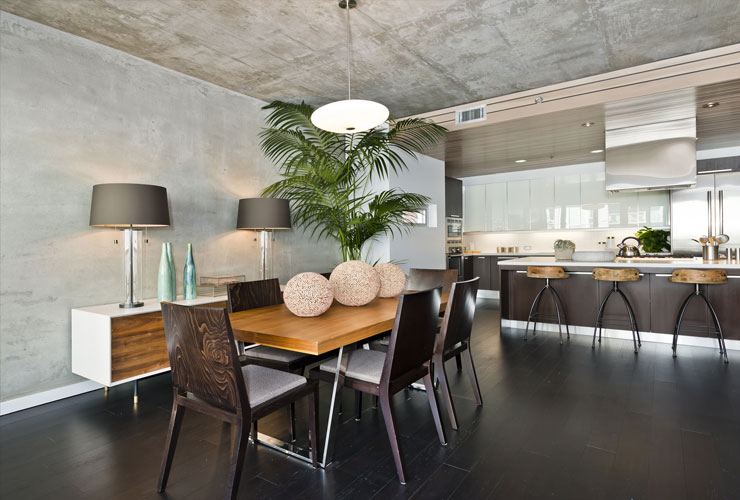 One of Smith & Fong's more contemporary releases in bamboo flooring -- Plyboo Stiletto® is the strongest and most durable addition to our strand flooring line. Stiletto is manufactured to be three times harder than traditional red oak flooring, making it perfect for both residential and retail applications. With click-lock technology, Stiletto is very easy to install. It can be glued down or floated on our PlybooQuiet® or PlybooFit® underlayment pads. As a system, Stiletto and PlybooQuiet and PlybooFit have been proven to significantly reduce noise abatement and can relieve leg stress in retail or fitness environments.
Most striking is Stiletto's beauty. The brushed surface and palette of six proprietary stains and finishes add elegance and style to any application. Because it is a Smith & Fong product, Stiletto meets the CA Section 01350 low emission standards and is FSC® Certified 100%.
Technical Product Information:
Certification

If you require a copy of our Smith&Fong FSC certificate, please request via

sales@plyboo.com

 

SCS-FS-02130
Certified by SCS Certification Systems to meet the indoor air quality standards of FloorScore®.
 

Material

100% bamboo

Standard sizes

9/16" x 5" x 72" 

16mm x 130mm x 1830mm

Fire rating

ASTM E648 Critical Radiant Flux, Class 1

1.0 plus, Highest Rating for Class 1

Hardness

ASTM D1037, Janka Ball Hardness Test

Average Hardness 3500 lbf

Weight

75lbs per box

 
LEED® Credits Possible:
IEQc4.3: Low-Emitting Materials - Flooring Systems (No Added Urea Formaldehyde)
MRc6: Rapidly Renewable Materials
MRc7: Certified Wood