PlybooStrand Bamboo Flooring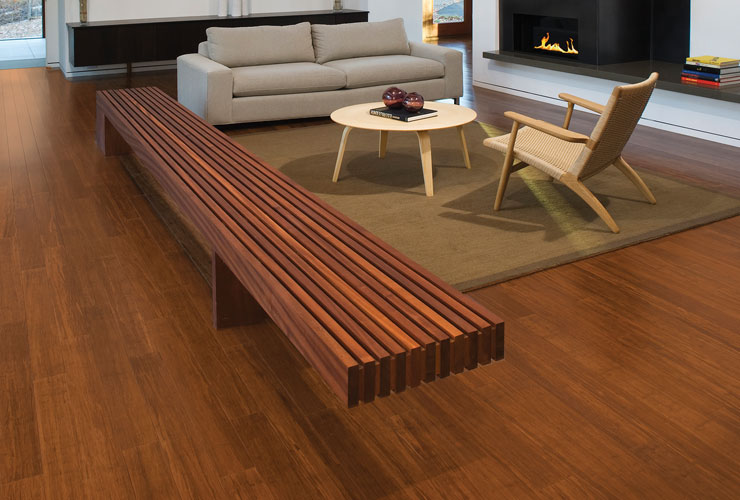 PlybooStrand bamboo flooring combines beauty with exceptional durability.
Our strand technology yields a flooring product that is three times the hardness of traditional red oak flooring.  PlybooStrand bamboo floors can be installed in both high-traffic commercial environments and in residences. 
PlybooStrand bamboo flooring options include: PlybooStrand Havana, Sahara, Neopolitan, and the newest addition, Stiletto, which includes stained and matte options to coordinate with versatile interior design needs.
Technical Product Information:
Certification

If you require a copy of our Smith&Fong FSC certificate, please request via

sales@plyboo.com

SCS-FS-02130
Certified by SCS Certification Systems to meet the indoor air quality standards of FloorScore®.
Standard sizes

3/8" x 3 3/4" x 36"
9/16" x 3 3/4" x 72"
​10mm x 95mm x 915mm
​14mm x 95mm x 1830mm
Finish

Multi-Coat Polyurethane or Unfinished
Fire rating

ASTM E648 Critical Radiant Flux, Class 1
1.0 plus, Highest Rating for Class 1
Hardness

ASTM D1037, Janka Ball Hardness Test
Average Hardness 3000 lbf
LEED® credits

MRc6: Rapidly Renewable Materials
IEQc4.3: Low-Emitting Materials - Flooring Systems (no added urea-formaldehyde)
MRc6: Rapidly Renewable Materials
MRc7: Certified Wood
Finish rating

ASTM D4060 and ASTM D3359 adhesion
21000 rotations, 4B adhesion rating
Weight

3/8" x 3 3/4" x 36" – 52lbs per box
9/16" x 3 3/4" x 72" – 80lbs per box
LEED® Credits Possible:
IEQc4.3: Low-Emitting Materials - Flooring Systems (No Added Urea Formaldehyde)
MRc6: Rapidly Renewable Materials
MRc7: Certified Wood
All PlybooStrand flooring products can be specified PlybooPure and FloorScore®-certified, and is FSC® Certified 100%