Edge Grain Bamboo Plywood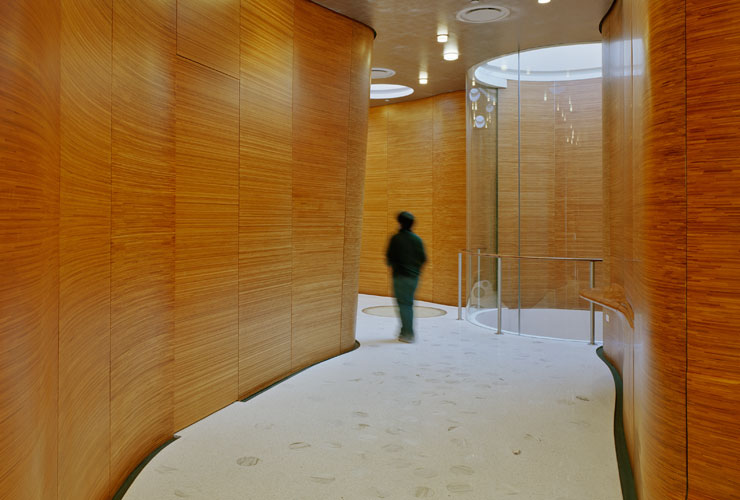 With a sleek, "sliced" look, Plyboo edge grain plywood is architectural grade for better dimensional stability.
Plyboo edge grain bamboo plywood can be cut and sanded with conventional woodworking equipment, and can be glued and fastened in the same manner as with wood products.
Plyboo edge grain bamboo veneers are manufactured either sheet-sliced or re-sawn. The thicknesses offered are .6mm and 2mm.
Plyboo edge grain bamboo products are available manufactured with CARB II compatible and can be specified FSC® Certified 100%.
All Plyboo bamboo veneers and bamboo plywood are unfinished. The color options for Plyboo edge grain bamboo plywood include Amber, Natural, and Chocolate. The bamboo veneer color options are Amber and Natural.
LEED credits are applicable.
Technical Product Information:
Certification

If you require a copy of our Smith&Fong FSC certificate, please request via

sales@plyboo.com

 
Material

100% bamboo
Standard sizes

1 1/2" x 30" x 120"
3/4" x 30" x 120"
3/4" x 48" x 96"
1/2" x 48" x 96"
1/4" x 48" x 96"
​38mm x 762mm x 3048mm
19mm x 762mm x 3048mm
19mm x 1219mm x 2438mm
12mm x 1219mm x 2438mm
6mm x 1219mm x 2438mm
Finish

Unfinished
Fire rating

Fire resistance classification: Class C
Test surface burning in accordance with ASTM E 84
LEED® credits

IEQc4.4: Low-Emitting Materials (no added urea-formaldehyde)
MRc6: Rapidly Renewable Materials
MRc7: Certified Wood
Weight

1 1/2" x 30" x 120" – 160 lbs per piece
3/4" x 30" x 120" – 80lbs per piece
3/4" x 48" x 96" – 90lbs per piece
1/2" x 48" x 96" – 65lbs per piece
1/4" x 48" x 96" – 35lbs per piece
LEED® Credits Possible:
IEQc4.4: Low-Emitting Materials (No Added Urea Formaldehyde)
MRc6: Rapidly Renewable Materials
MRc7: Certified Wood
All Plyboo Edge Grain plywood products can be specified SoyBond, Formaldehyde-Free
Please add NAUF/FSC to suffix, if requesting a Formaldehyde Free, FSC 100% panel 
11/2-inch, 2-ply |

1 1/2" x 30"x120"

BP-S1530120VA
1-inch, 3-ply |

1" x 48" x 96"

BP-V0196A
3/4-inch, 3-ply | 3/4" x 48" x 96"

BP-V4896A
3/4-inch, 1-ply | 3/4" x 30" x 120"

BP-S30120VA
3/4-inch, 1-ply | 3/4" x 48" x 96"

BP-S4896VA
1/2-inch, 3-ply | 1/2" x 48" x 96"

BP-V1296A
1/4-inch, 3-ply | 1/4" x 48" x 96"

BP-V1496A
2mm Veneer |

2mm x 18" x 97"

BVN-1897VA
.6mm Veneer | 1/42" x 49" x 98"

BVN-4896VA
.6mm Veneer | 1/42" x 49" x 122"

BVN-48120VA
Please add NAUF/FSC to suffix, if requesting a Formaldehyde Free, FSC 100% panel 
1-inch, 3-ply |

1" x 48" x 96"

BP-V0196N
3/4-inch, 3-ply | 3/4" x 48" x 96"

BP-V4896N
3/4-inch, 1-ply | 3/4" x 48" x 96"

BP-S4896VN
1/2-inch, 3-ply | 1/2" x 48" x 96"

BP-V1296N
1/4-inch, 3-ply | 1/4" x 48" x 96"

BP-V1496N
2mm Veneer |

2mm x 18" x 97"

BVN-1897VN
.6mm Veneer | 1/42" x 49" x 98"

BVN-4896VN
.6mm Veneer | 1/42" x 49" x 122"

BVN-48120VN